History – Scholarships
The mission of UFC includes fundraising initiatives that support an endowed scholarship at UC Merced. When UFC was founded, then Chancellor Steve Kang and his wife, Mia, provided the initial funding, establishing the University Friends Circle Scholarship Fund. This fund has continued to grow from generous individual gifts, fundraising events, and the support of our recent Giving Tuesday campaigns. From its inception through 2023, $97,000 in scholarships has been provided to 44 recipients.
Each spring, eligible UC Merced students are invited to apply for the scholarship and recipients are chosen by a volunteer committee of UFC members. Because the endowment has grown significantly, UFC is able to offer an increasing number of scholarships in both quantity and value. Recipients are recognized at the annual Scholarship and Awards Reception each May.
Awards
In addition to the individual scholarships, the University Friends Circle honors campus student organizations with the Community Service Award to a student organization on campus. Student clubs that engage in significant community service projects are encouraged to apply for the annual $1,000 award. These awards are announced at the UC Merced Student Leadership Awards Ceremony and the group's leadership is invited to attend the UFC Annual Scholarship and Awards Reception in the spring. Over the last 13 years, $15,000 has been provided in awards to student organizations that have had an impact. 
2023 Award Winners
Community Service Organization Award:
Latinx Student Union
La Familia
RadioBio
Distinguished Volunteer Scholarship – 4 Recipients:
Delaney Nunes
Kyle Chun
Kimberly Barillas
Avreen Bal
Process
Each spring, the UFC Scholarship and Awards Committee partners with UC Merced staff to solicit applications, select recipients, and disperse the awards.
The Committee carefully sets criteria, evaluates applications, conducts interviews, and selects recipients for both the Scholarship and the Award. Recipients selected exhibit leadership skills to organize meaningful service to others, demonstrate an active and ongoing commitment to the Merced Community, and have had a significant impact in the community as a result of a key project.
Get Involved
If you are a student who wishes to apply, you'll find a link here in early spring each year.
If you are interested in serving on the Scholarship and Awards Committee in the 2024-25 academic year, and are a current UFC member (or plan to become one!), please complete this form to share your interest. 
Make a contribution to the UFC Endowed Scholarship Fund
Make a contribution to the Student Impact Fund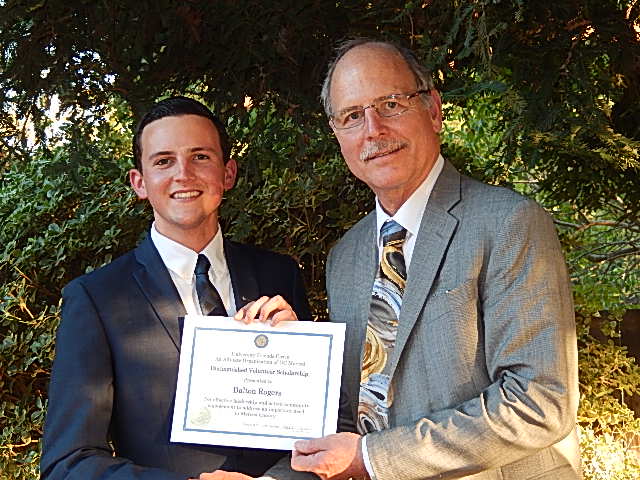 Prior Scholarship and Award Recipients
Since 2009, University Friends Circle has recognized the following UC Merced students and organizations:
2022
Community Service Organization Award:
Student Alumni Association
RadioBio
Distinguished Volunteer Scholarship – 6 Recipients:
Avreen Bal
Kimberly Barillas
Hunter Prout
Cesy Ixcoy
Kyle Chun
Anayelli Ascencio
2021
Community Service Organization Award:
Phi Delta Epsilon
RadioBio
Distinguished Volunteer Scholarship – 6 Recipients:
Gehad Elhanafy
Andrew King
Joshua Jones
Adrian Bultron Boada
Nickolas Morales Guillen
Emily Lichlyter
2020
Community Service Organization Award: 
Quantitative Project
RadioBio
Distinguished Volunteer Scholarship – 6 Recipients:
Bridget Rosales-Ortiz
Eddie Phosalath
Julisa Arreola Renteria
Karla Leon-Aguilar
Holly Auyeung
Genesis Flores Renteria
2019
Community Service Organization Award: 
Microfinance Club
RadioBio
Distinguished Volunteer Scholarship – 5 Recipients:
Valerie Moss
Cruzangel Nava
Maria Ocegueda
Brenda Castaneda-Castaneda
Nataly Rios Martinez
2018
Community Service Organization Award: RadioBio
Distinguished Volunteer Scholarship – 7 Recipients:
Gagandip Singh
Gurbinder Singh
Brenda Castaneda-Castaneda
Dannavie Faye Abenojar
Zhane' Mejino
Tamunotubo George
Jessica Lopez Lara
2017
Community Service Organization Award: Society of Women Engineers
Distinguished Volunteer Scholarship – 4 Recipients:
Alexus Garcia
Andrea Gurrola
Asmaa Mohamed
Monica Perales
2016
Community Service Organization Award: Ingenieros Unidos
Distinguished Volunteer Scholarship: Marqose Saephan
2015
Community Service Organization Award: Ingenieros Unidos
Distinguished Volunteer Scholarship: Dalton Rogers
2014
Community Service Organization Award: Science Alliance
Community Volunteer Leadership Scholarship: Merlyn Perez
2013
Community Service Organization Award: Energy Conservation Corps
Community Volunteer Leadership Scholarship: Noel Justin Lee Gomez
2012
Community Service Organization Award: Rho Omicron Chapter of Kappa Sigma Fraternity
Community Volunteer Leadership Scholarship: Gabriel Rodriguez
2011
Community Service Organization Award: Alpha Phi Omega
Community Volunteer Leadership Scholarship: Shane Kavanaugh 
2010
Community Service Organization Award: Rotaract